Welcome to FUNNIEST
BABY
FACE CONTEST (FBFC)
!!
Conditions:
From 0 Months - 5 Years only
Duration:
26 April - 7 May 2010
(sebab cetot tak sempat, weekend ni g holiday with family)
How to Join BFFC contest?
Very easy.!!!
Create new entry with title "Funniest Baby Face Contest (BFFC)" and post only 1 of your kids photo with her/his funny face expressions (Include Baby's Name, Mom's Name and Baby's Age) at your blog
Be my Follower
Add my blog url (http://www.cetot.com) to your Blog List
Add this blog url (http://smoochonline.blogspot.com) to your blog list (Tudung Sponsor)

Copy and paste "CETOT OUTLET Logo" code below at your blog sideba

r
Copy and paste "Contest Banner" code below at your blog sidebar
Copy and paste your new entry link in comment below (for blogger)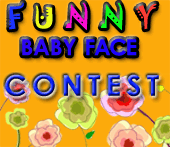 Copy this code to your blog

That's All!!
Winner will be judge based on the funniest baby face
Contoh muke anak saya... kelakar ke? bolehlaaa sesikit..keke
Baby item in Cetot Outlet worth RM 50.00 (You can choose item)
1 bag Lesportsac Bag with small pouch
10% voucher + Sehelai Tudung (Sponsored by Smooch Hijjab Collection)
1 piece of Baby Brooch for Mommy
Cartoon sticker for your Baby
1 piece of Baby Brooch for Mommy
Cartoon sticker for your Baby
Cartoon sticker for your Baby